Welkom in onze galerij met ontwerpen met een L-vormige keuken met kookeiland met verschillende stijlen, afwerkingen en ideeën.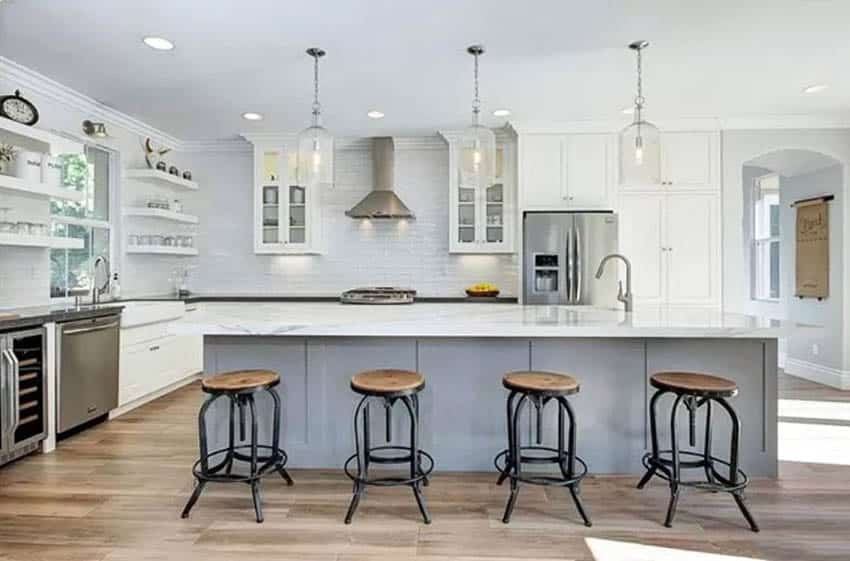 Het kookeiland is altijd een esthetisch en functioneel element van de keuken geweest. Zowel kleine als grote keukens kunnen er een installeren, mits er voldoende ruimte is. Maar over het algemeen genieten grotere keukens beter van de voordelen en extra functies van kookeilanden. Er zijn ook veel opties als u overweegt er een te installeren. Meestal passen mensen het kookeiland aan de bestaande kasten aan, of laten ze het er soms anders uitzien om als brandpunt te dienen. Je kunt ook vrijstaande kookeilanden gebruiken als je een mobielere optie wilt.
Het kookeiland op de bovenstaande afbeelding dient als middelpunt in deze grote L-vormige keuken< /a> vanwege de grijs geverfde basis die contrasteert met de volledig witte wandkasten. Het kookeiland is uitgerust met een extra spoelbak en eetruimte voor vier personen. U zult ook merken dat ingebouwde apparaten, zoals een aanrecht wijnkoelkast en een ingebouwde vaatwasser, direct naast de gootsteen geplaatst.
Functies en voordelen van Kitchen Islands
Scheidingsruimtes – dit is vooral van toepassing op open ruimtes. Het keukeneiland helpt ruimtes visueel te verdelen zonder het verkeer en de visuele stroom van de ruimte te belemmeren.
Extra werkoppervlak – het extra aanrechtoppervlak dat het kookeiland biedt, helpt absoluut tijdens het bereiden van voedsel.
Betere workflow – dit is vooral van toepassing voor grotere keukens. De toevoeging van kookeilanden helpt bij het creëren van een goede "werkende driehoek".
Extra opslag – De extra kastruimte helpt zeker veel als je veel spullen moet opbergen. Dit biedt ook meer ruimte voor andere keukenapparatuur zoals vaatwassers, of zelfs een extra kookplaat of gootsteen.
Extra eetruimte – het kookeiland is een vrij handige extra eetruimte, vooral voor ontbijt of lichte maaltijden / snacks.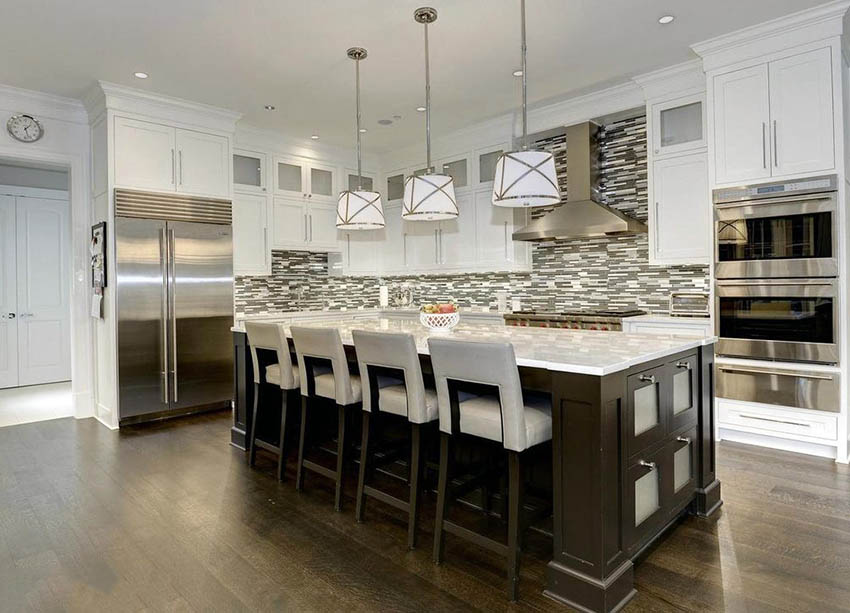 In een neoklassieke stijl heeft deze L-vormige keuken een kookeiland dat de basis voor opslagruimte maximaliseert. Zelfs de zijkanten van de keuken werden gebruikt als kastruimte. Een ander interessant kenmerk in deze keuken is de magnetische kant van de koelkast.
L-vormige keukenontwerpen met eiland
L-vormige keukens zijn een van de meest voorkomende keuken indelingen. De toevoeging van een kookeiland aan een L-vormig keukenontwerp zorgt voor een betere verkeersstroom en toegankelijkheid voor een efficiëntere werkdriehoek. Grote keukeneilanden hebben vaak apparatuur of apparaten erop geïnstalleerd, vooral als de belangrijkste tellers al krap zijn. Verdubbeling van keukenfuncties is ook vaak te zien op kookeilanden.
Bijvoorbeeld, spoelbakken – het grotere werkoppervlak van het kookeiland maakt het meer ideaal voor voedselbereiding, dus een extra spoelbak wordt meestal geïnstalleerd, meestal voor het reinigen van de handen of het wassen van het voedsel. De kookplaat / kookplaat wordt ook vaak gedupliceerd op het kookeiland. Dit is met name handig als u bepaalde gerechten wilt verwarmen of koken terwijl u andere gerechten op het hoofdfornuis bereidt, of als u gewoon een extra kookplaat wilt om aan te werken.
Hier zijn enkele voorbeelden van L-vormige keukens met kookeilandjes: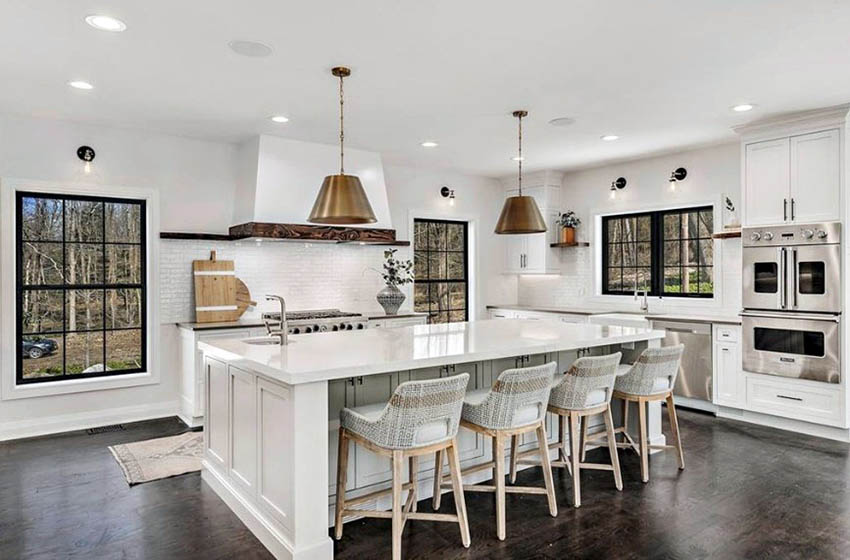 Deze moderne keuken in overgangsstijl combineert perfect oude details met moderne esthetiek. Donkere houten vloeren en zwarte ramen vormen een mooi contrast met de geheel witte muren en keuken, terwijl de toevoeging van een paar natuurlijke houtafwerkingen, messing accenten en geweven stoffen de ruimte een meer ontspannen gevoel geven. Een kleine onderbouwgootsteen werd op het kookeiland geïnstalleerd en biedt voldoende aanrechtruimte voor vier grote aanrechtkrukken. De ruimte onder het kookeiland werd ook gemaximaliseerd met opslagruimte, terwijl de wandkasten de ingebouwde apparaten herbergen.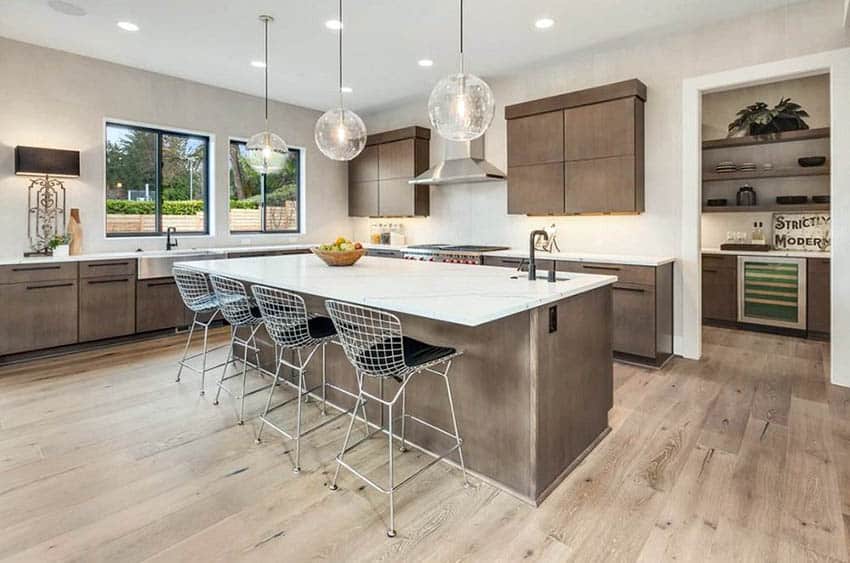 Gaan voor een moderne boerderij esthetiek, werden roestvrij stalen afwerkingen gecombineerd met rustieke houten laminaten op de keukenkasten. De barkrukken van Bertoia sieren het keukeneiland met marmer en creëren een mooi contrast van materialen / texturen. Je zult ook leuke kleine details opmerken, zoals de zwarte poedercoating trekt aan de onderkasten en de bijpassende matzwarte keukenarmaturen.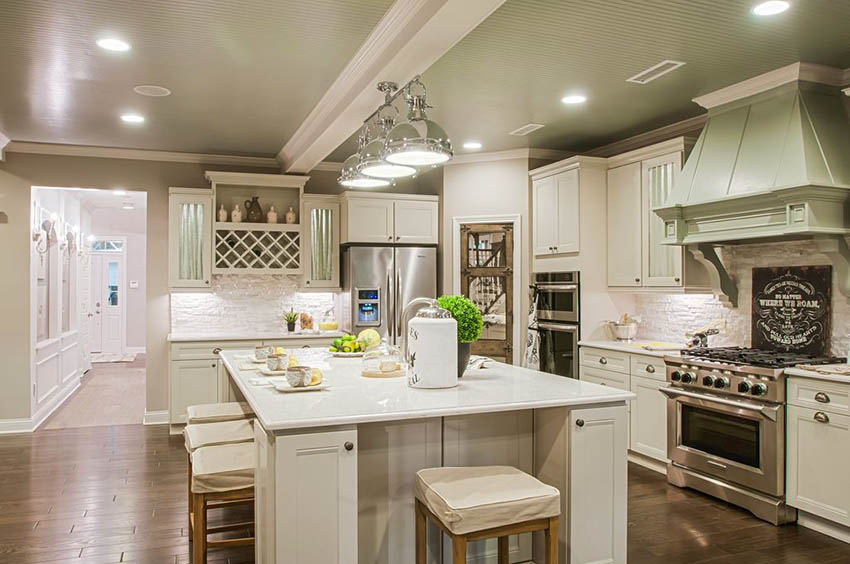 Nog een klassieke L-vormige keuken die de basis van het kookeiland volledig gebruikt voor opslagruimte. Zelfs de zijkanten en de voorkant van het kookeiland werden gebruikt voor kastruimte. Het heeft ook een klein hoekje / overhang zodat u uw tegenkrukken naar binnen kunt duwen zodat het de weg niet belemmert wanneer het niet in gebruik is.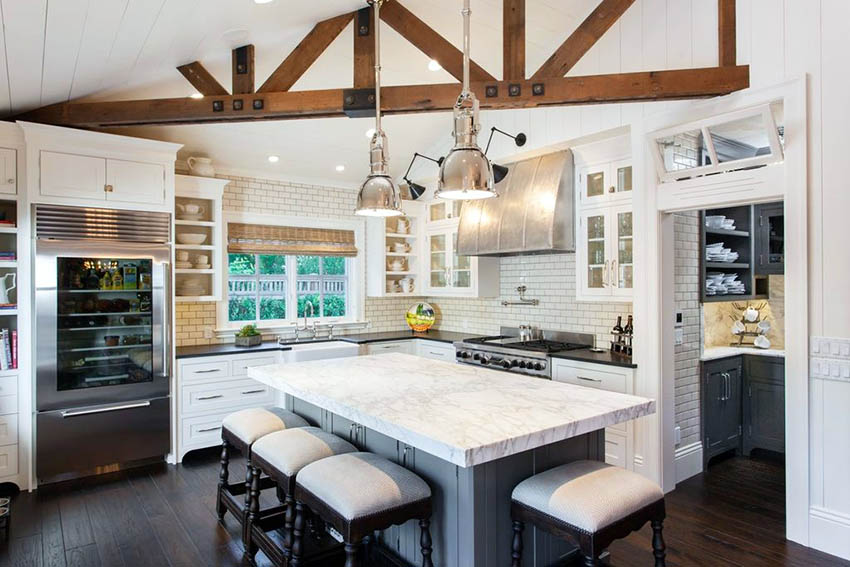 Dit keukeneiland is ontworpen om het extra werkblad, de eetruimte en de opslagruimte die het kan bieden te maximaliseren. De marmeren top van het kookeiland heeft rondom een ​​overhang zodat alle kanten als eetruimte kunnen worden gebruikt. De hele basis aan alle kanten werd ook gebruikt als extra kasten voor extra opslag.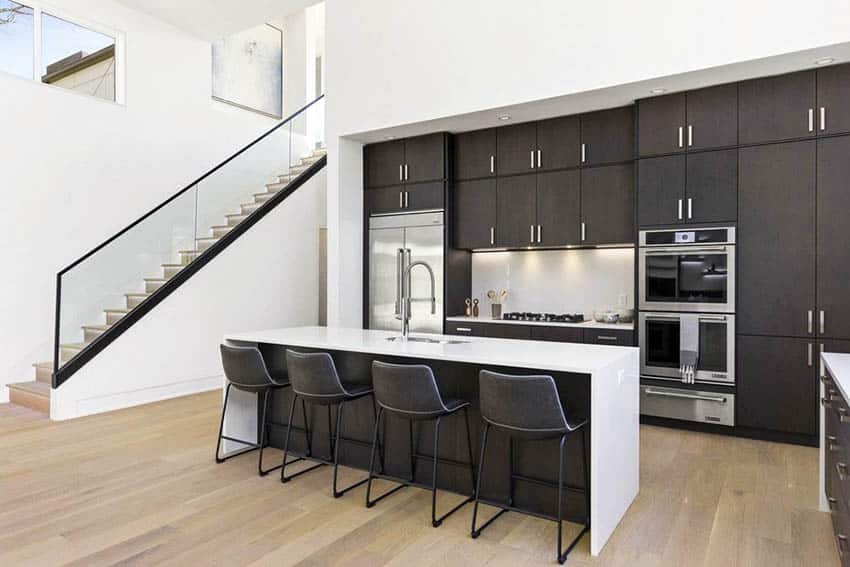 Dit prachtige eigentijdse keukenontwerp benadrukt zijn strakke uiterlijk met heldere en scherpe contrasten. Het witte monolithische solide oppervlak aan de bovenkant en zijkanten van het kookeiland voegt een mooi krachtig contrast toe aan de donkere wengue-laminaten die worden gebruikt op de keukenkasten en de basis van het eiland. Het kookeiland dient als een extra werkruimte / top, omdat de hoofdkasten meestal werden gebruikt voor ingebouwde ovens, kookplaten en voorraadkasten.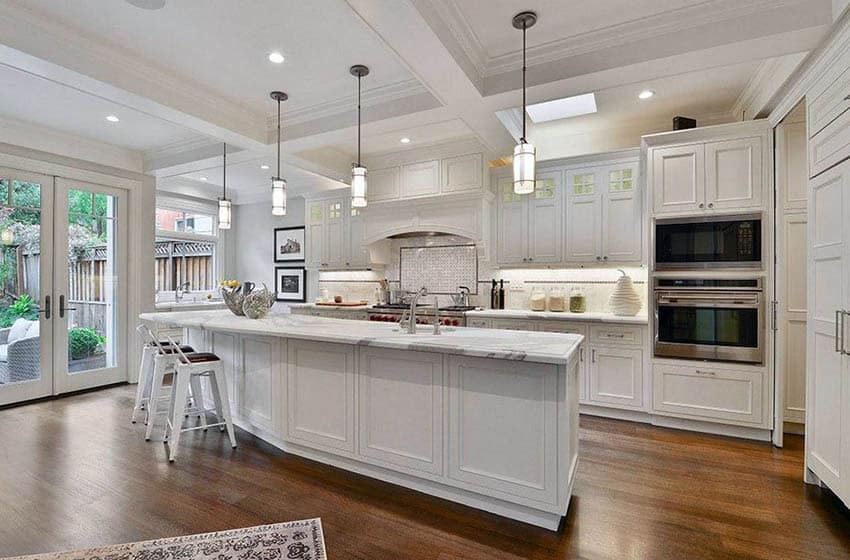 Het keukeneiland past zich aan de vreemd gevormde indeling van deze keuken aan om de beschikbare ruimte te maximaliseren en een consistente gangruimte te creëren. Deze keuken heeft kasten in klassieke stijl die zijn aangepast om ook inbouwapparatuur te bevatten.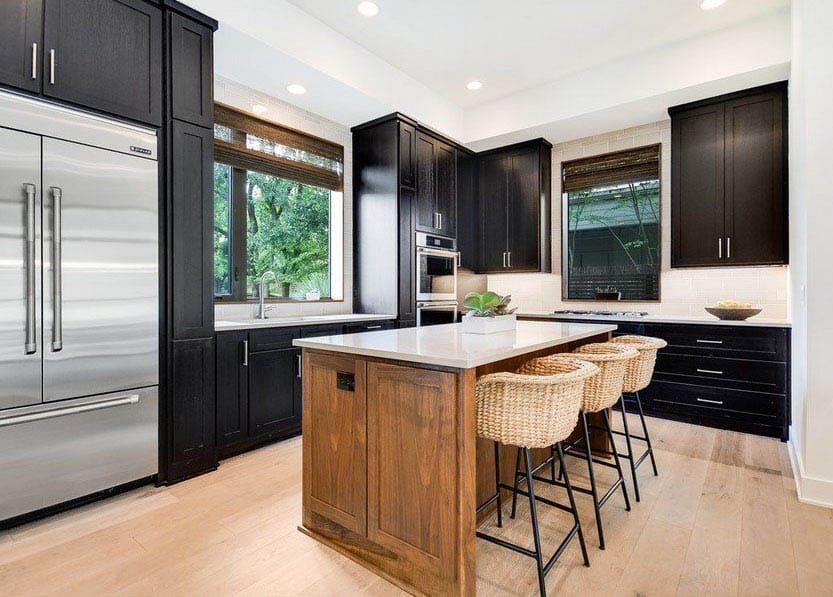 Door een natuurlijke olie-afwerking te gebruiken voor de eikenhouten basis van het kookeiland, wordt het het middelpunt van de keuken die donkere wengue-vlek gebruikt voor zijn kasten. De schone witte kwarts top verbindt de look, terwijl de geweven jute-krukken flair en textuur aan de ruimte toevoegen.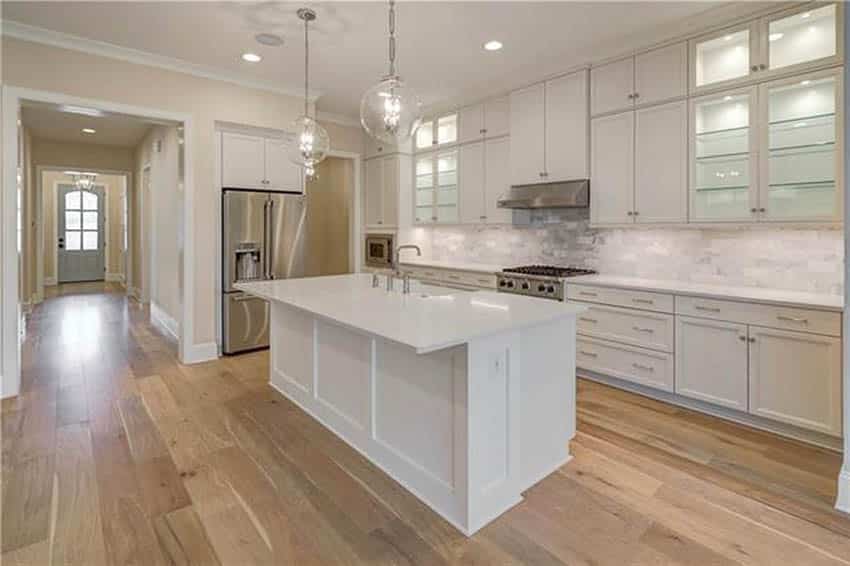 Wit is een gangbaar schema voor keukens omdat het erg tijdloos is en gemakkelijk past in elke ontwerpstijl. Bovendien zien witte k
asten er geweldig uit in combinatie met zilver / roestvrij staal, wat de meest voorkomende afwerking is voor moderne apparaten. Deze witte keuken in klassieke stijl krijgt een moderne flair met zijn roestvrijstalen inbouwapparatuur en zijn helderglazen displayplanken en hanglampen.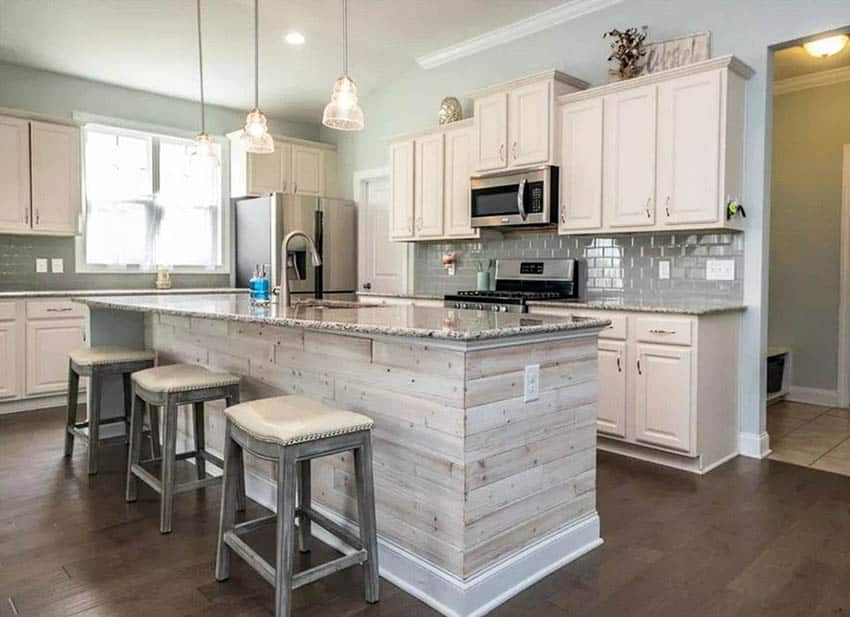 Het gebruik van horizontale dakspanen om een ​​gestructureerde afwerking aan uw kookeiland toe te voegen, is een leuke touch om verschillende afwerkingen aan de ruimte toe te voegen. Gecombineerd met de verouderde afwerking van de aanrecht en de glanzende afwerking van de grijze metrotegels op de achterwand, geeft deze keuken een eclectische kitscherige sfeer.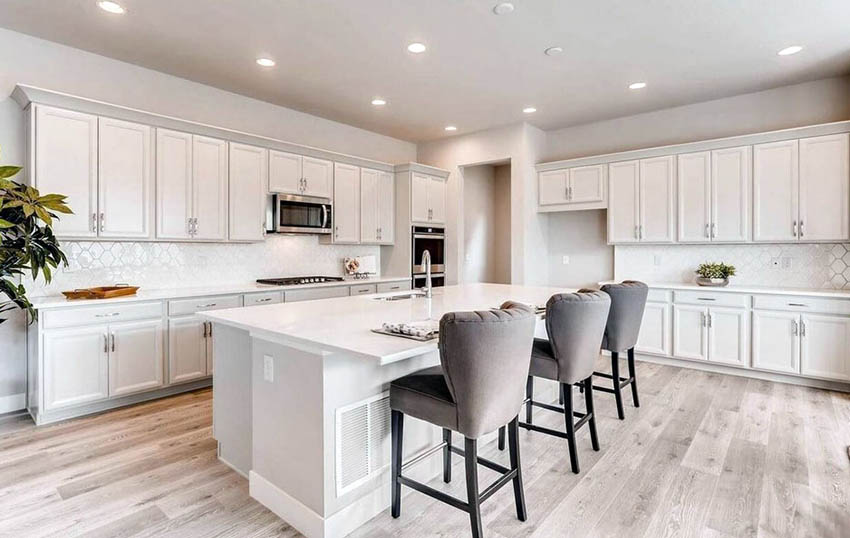 Dit is een uitstekend voorbeeld van een overgangsstijl keuken met kookeiland en stoelen die speelt met subtiele tintveranderingen en texturen om een ​​leukere look te creëren. Toestellen zijn ingebouwd voor een schoner uiterlijk en aanrecht items / accessoires werden geminimaliseerd. De volledig gestoffeerde grijze toonbankkruk voegt een vleugje contrast toe aan het anders zacht getinte palet van de keuken.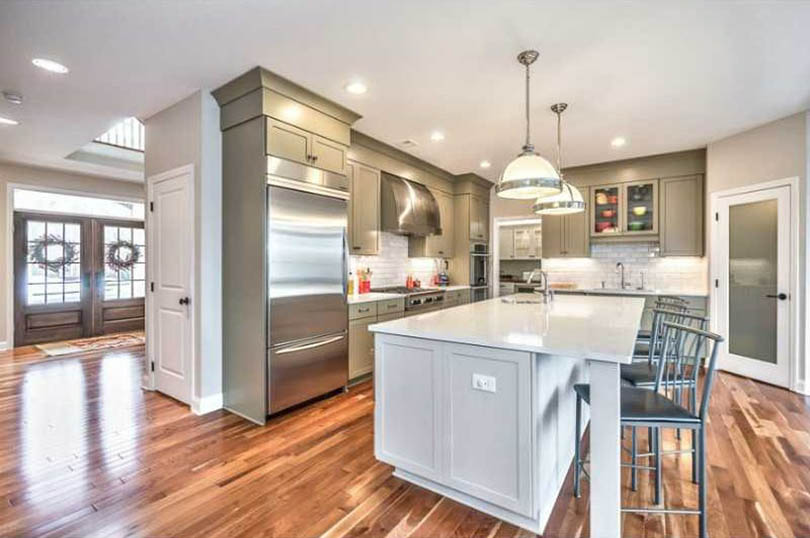 Dit keukenontwerp combineert kaki geschilderde keukenkasten met een lichtgrijs kookeiland. Zilver / roestvrijstalen afwerkingen fungeert als de accentkleur, die te vinden is op de ingebouwde apparaten (koelkast, fornuis, afzuigkap), armaturen, aanrecht en verlichting.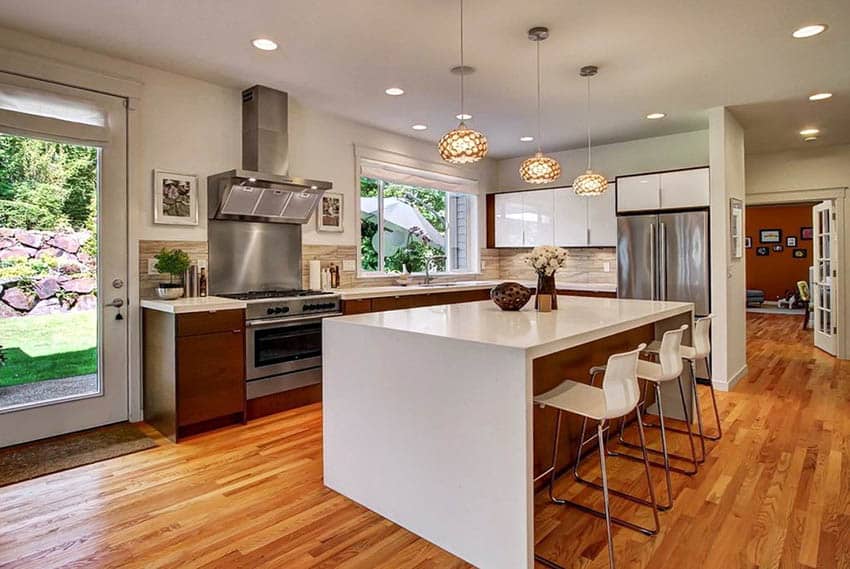 Deze moderne L-vormige keuken combineert glanzend wit met matte mahonie laminaatafwerkingen om de warmte van het hout en het koele gevoel van glanzend laminaat in balans te brengen. Andere unieke kenmerken in deze keuken zijn het roestvrijstalen spatbord voor het keukenprogramma dat het verbindt met de afzuigkap. Dit zorgt voor een zeer moderne uitstraling die past bij het algemene thema van de ruimte.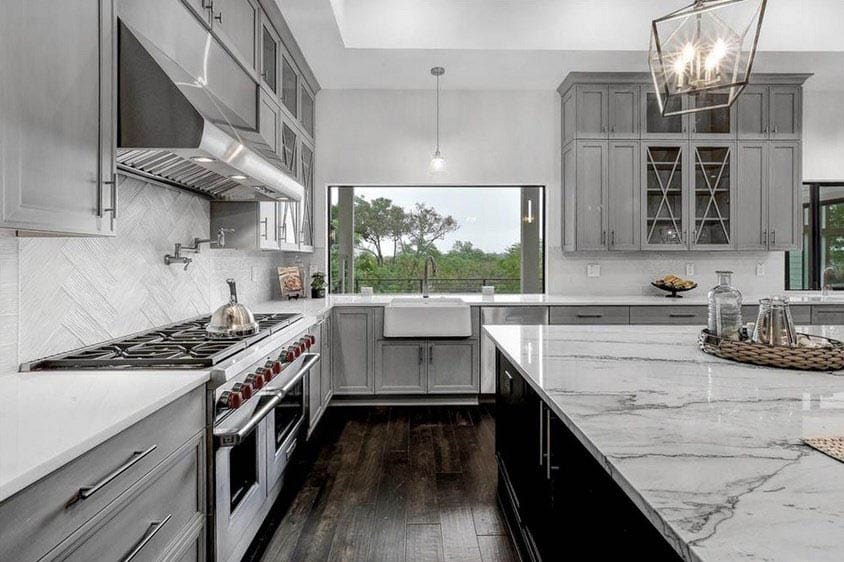 Deze massieve landelijke keuken gebruikt een achromatisch kleurenschema en speelt een beetje met texturen en patronen om het interessanter te maken. De belangrijkste keukenkasten zijn grijs gekleurd, maar hebben een prominente houtnerfstructuur, terwijl de basis van het keukeneiland een donkere houtbeits heeft, waardoor deze bijna zwart is. De backsplash gebruikt witte houtstructuurtegels in verschillende patrooncombinaties. Om aan de textuurvariatie toe te voegen, heb je ook het hoofdaanrechtblad dat een gewoon wit massief oppervlak is en het keukeneiland coutnertop dat een grote plaat of marmer is met prominente zwarte aders.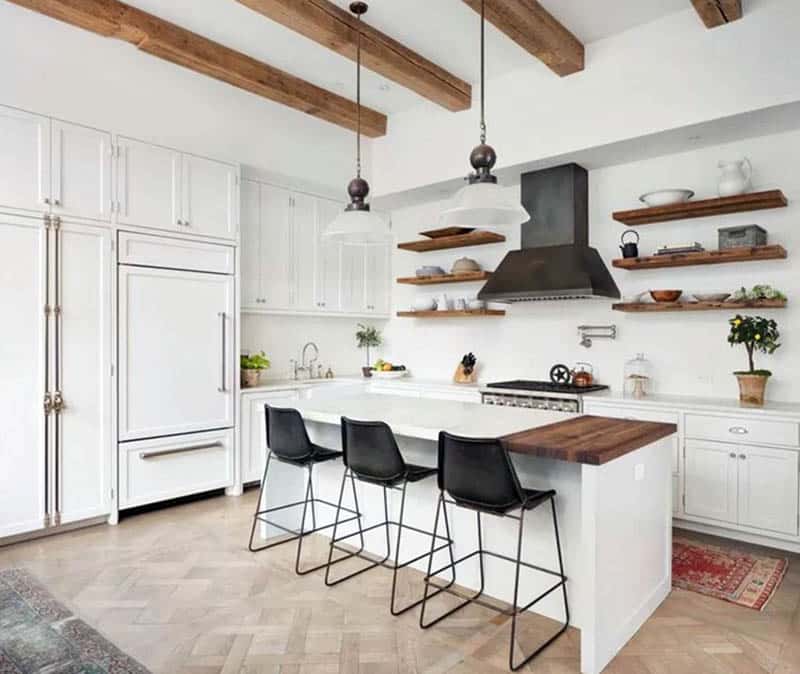 De combinatie van witte en natuurlijke houtafwerkingen maakt deze keuken meteen een Pinterest-waardige look! De L-vormige keuken ziet er extra strak en schoon uit omdat de ingebouwde apparaten verborgen waren in de kasten, alles behalve het fornuis en de afzuigkap. De open houten planken en het kleine slagersblok op het kookeiland zijn een leuke touch om de look af te maken.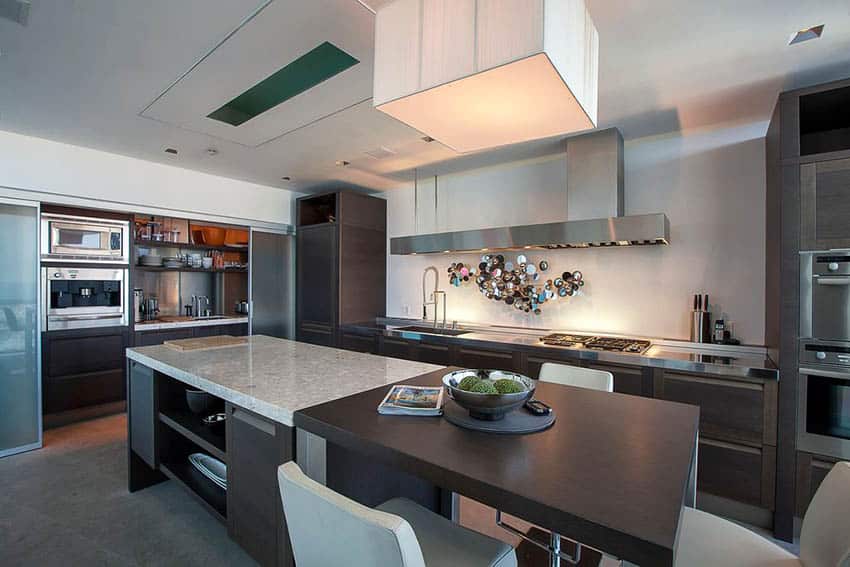 Voor deze moderne L-vormige keuken, in plaats van een deel van het kookeiland als eetgedeelte te gebruiken, verlengt deze eenvoudig het kookeiland of verbindt het een kookeiland met een houten gelamineerde tafel op hoogte die als een kleine ontbijttafel in de keuken dient. Dit gaat goed samen met het zeer samenhangende moderne kleurenschema dat roestvrij staal combineert met donker walnootlaminaat.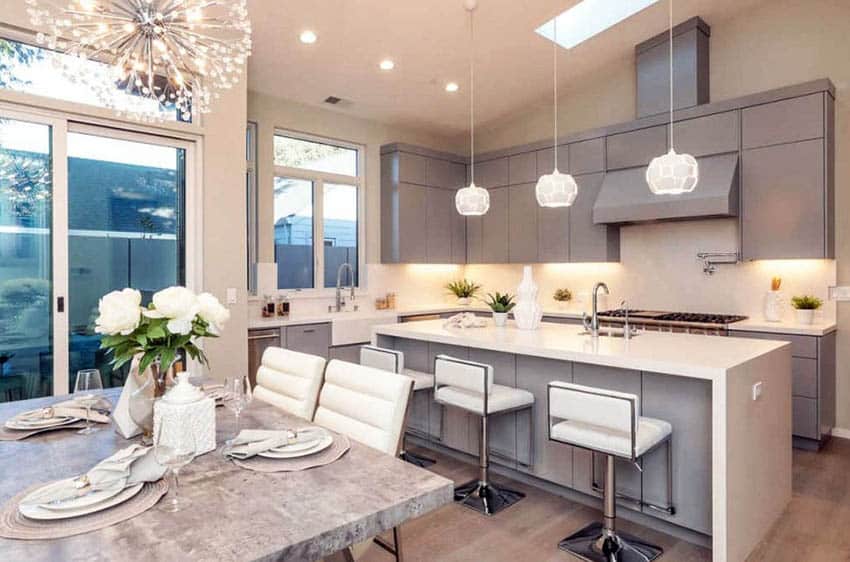 Dit is een uitstekend voorbeeld van een open keuken die rechtstreeks aansluit op de eetkamer. Het kookeiland dient in dit geval als visuele scheidingslijn tussen de eetruimte en de keukenruimte. Beide ruimtes gebruiken een wit en grijs modern schema.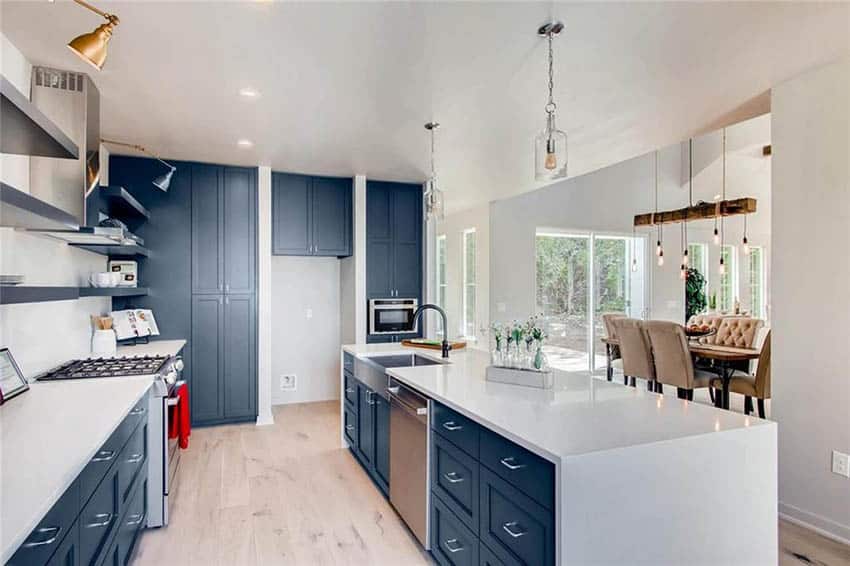 Het enorme keukeneiland van deze moderne L-vormige keuken scheidt het van de rustieke eetruimte aan de overkant. De keuken maakt gebruik van gunmetal grijze kasten in combinatie met schone witte massieve bovenbladen. Apparaten zijn allemaal ingebouwd in de kasten voor een strak uiterlijk.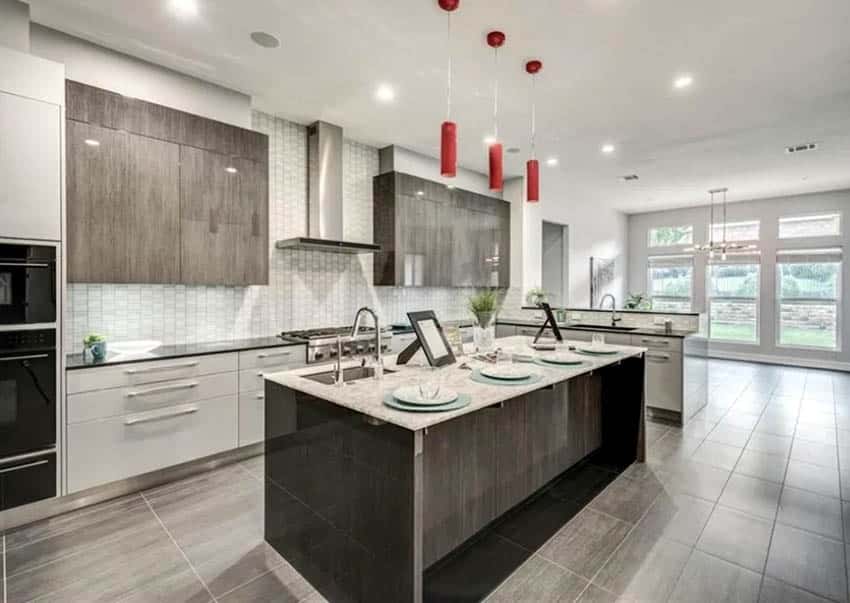 Deze moderne keuken maakt gebruik van een unieke glanzende houtlaminaatafwerking op de bovenkasten en het kookeiland, dat gepaard gaat met wit glanzend laminaat en marmeren toonbanken. Het glanzende laminaat zorgt voor een naadloze overgang naar de ingebouwde glazen ovens.
Witte L-vormige keukens met eilanden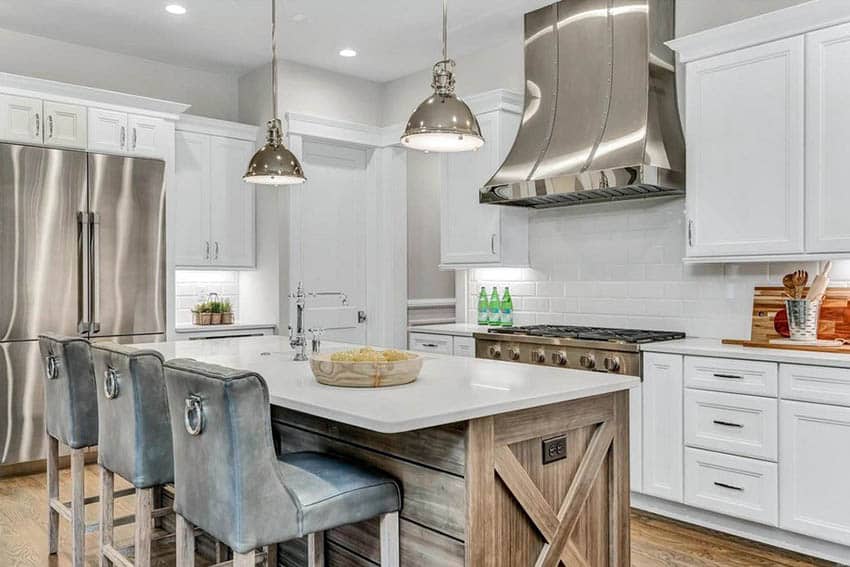 Deze keuken gaat helemaal in zijn landelijke stijl en gebruikt verweerde houten planken om een ​​klein accent aan het kleine kookeiland toe te voegen. De keuken maakt ook gebruik van vintage-stijl armaturen, evenals vintage-stijl apparaten en verlichting die bij de hele look passen.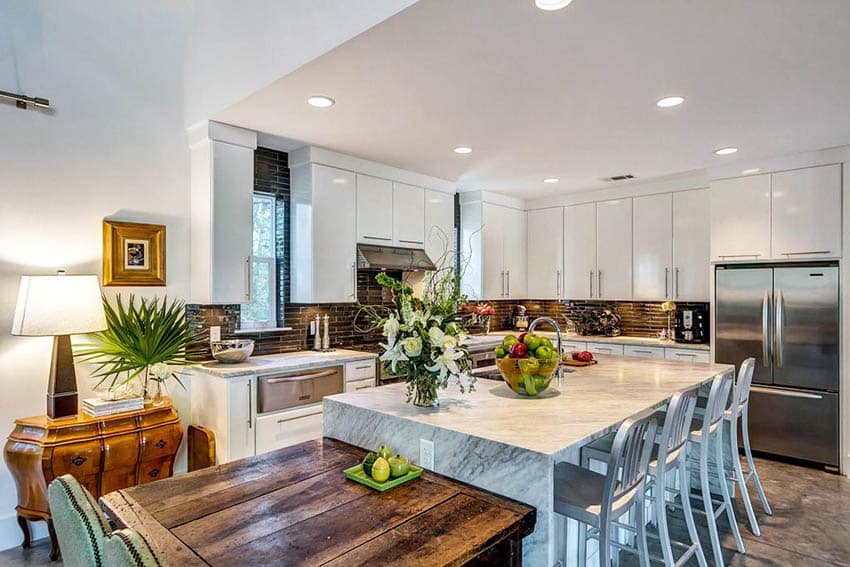 Deze open keuken heeft een zeer eclectische mix van afwerkingen en stijlen. Glanzende modulaire kasten, een massief keukeneiland van Carrara-marmer, metalen aanrecht en apparaten zijn allemaal gecombineerd met vintage sideboards en vintage eettafel, waardoor een zeer unieke look ontstaat.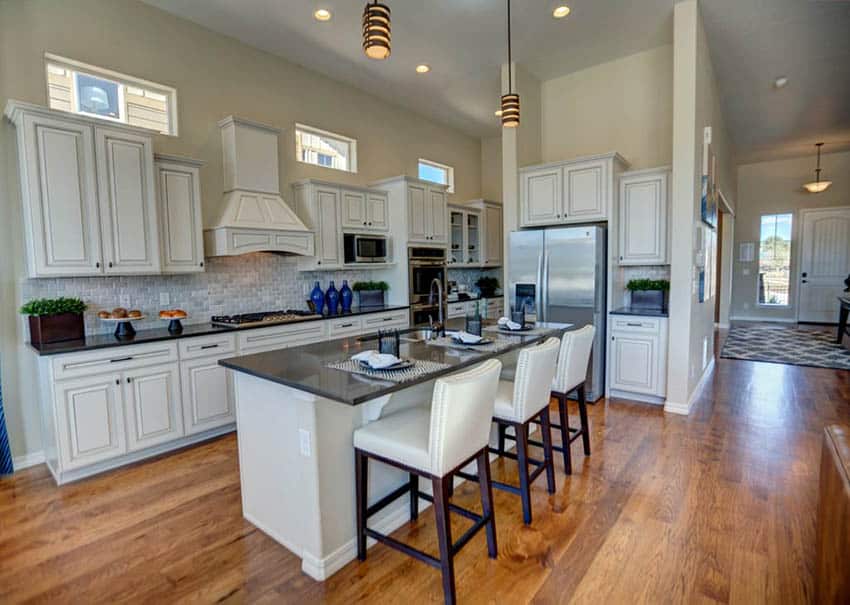 Het keukeneiland verdeelt de L-vormige keuken van de woonkamer en past een samenhangend klassiek thema aan dat past bij de architecturale stijl van het huis. De noodlijdende antieke witte keukenkasten bieden een uitstekend contrast met de donkergrijze aanrechtbladen van kwarts.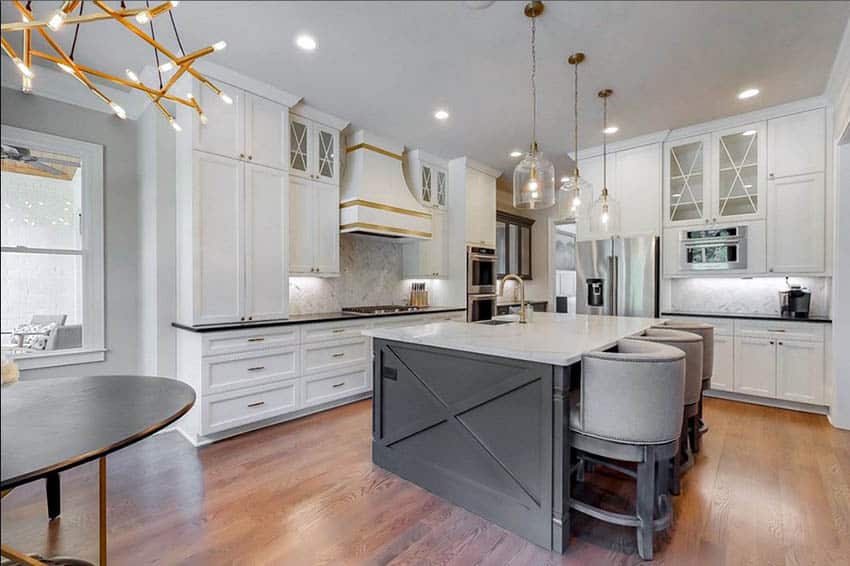 Gouden accenten voegen een elegante flair toe aan deze landelijke keuken. De ruimte heeft een interessante combinatie van moderne verlichting / accessoires en klassieke meubels.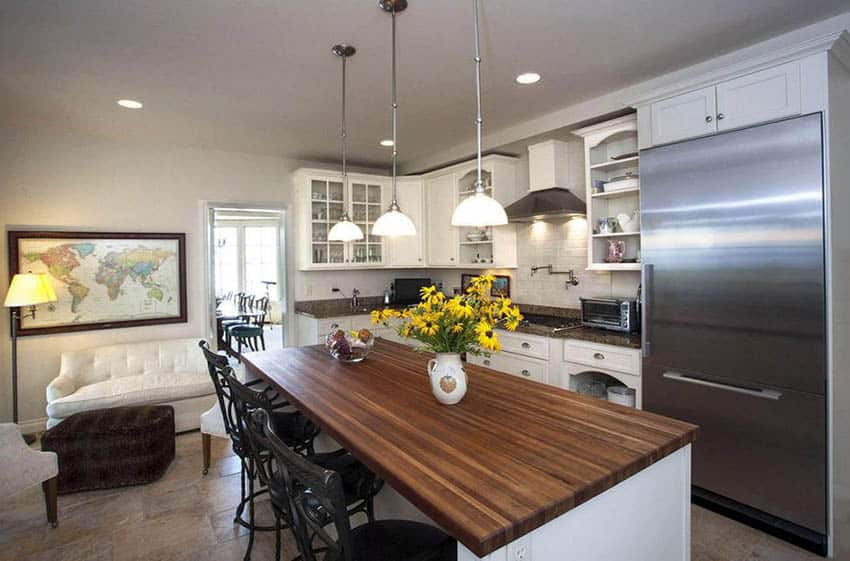 De massief houten slagerij op het kookeiland onderscheidt zich van de wit gedomineerde keuken. De toevoeging van smeedijzeren aanrechtkrukken in klassieke stijl is een leuke touch die een aanvulling vormt op de algehele stijl die in het huis wordt gebruikt.
Kleine L-vormige keuken met eiland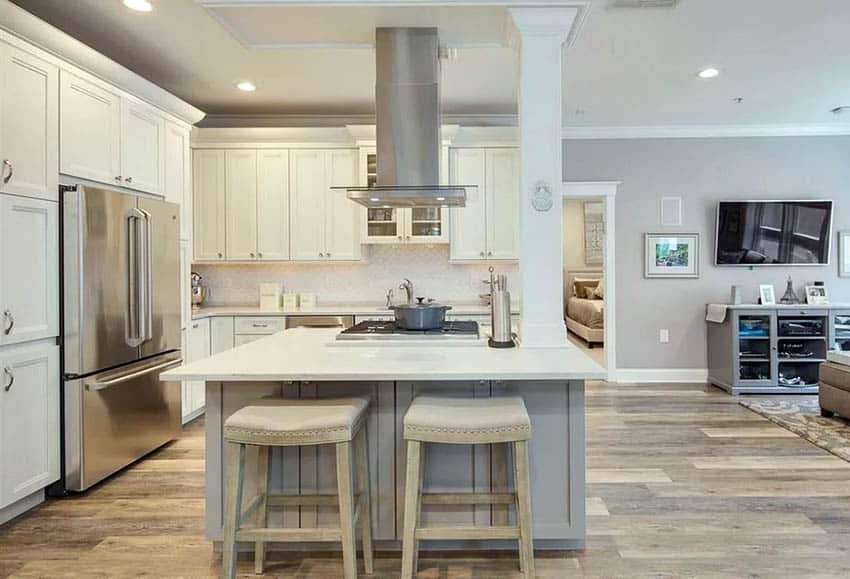 Wanden werden verwijderd, de structurele kolommen werden omarmd in deze open keuken in overgangsstijl. De keuken gebruikt een licht kleurenschema van witte, grijze en lichte houtafwerking dat past bij de lichte houten vloer. Het vierkante keukeneiland baande zich een weg rond de kolom en liet het eruit zien als onderdeel van het ontwerp.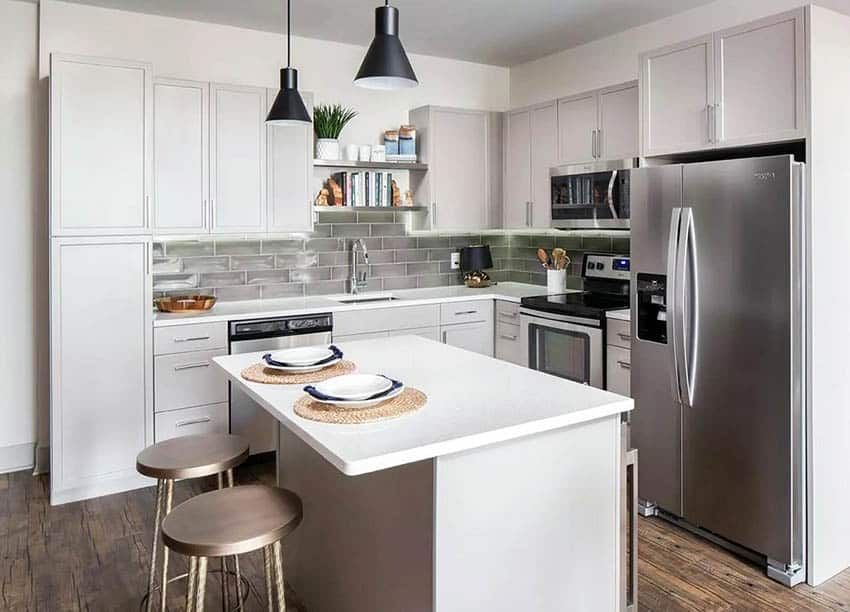 Deze kleine L-vormige keuken slaagde erin om een ​​even klein kookeiland samen te persen om de onderbouwwijnkoelkast te huisvesten en extra eet- en aanrechtruimte te bieden.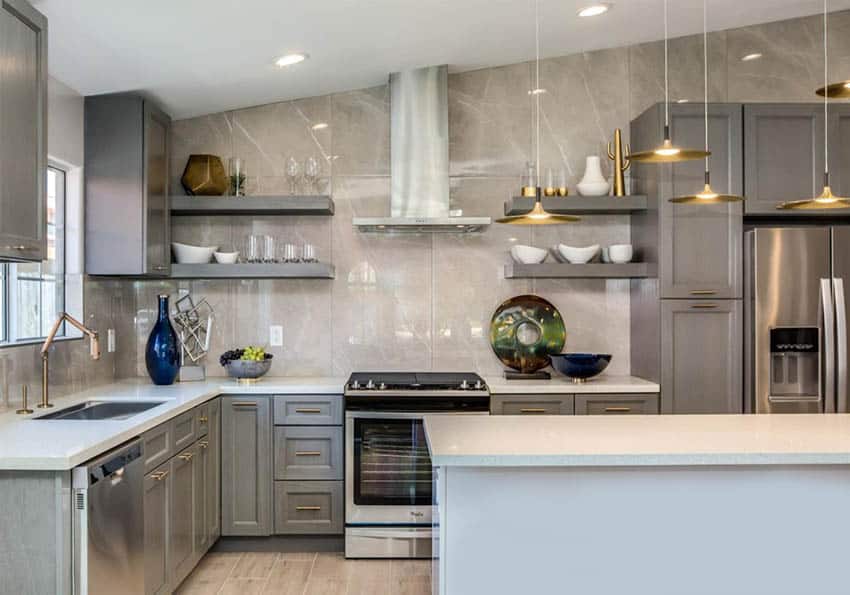 Deze prachtige keuken in overgangsstijl combineert grijstinten en wit met gouden accenten voor een moderne en elegante look die een waardige look voor een thuismagazine creëert!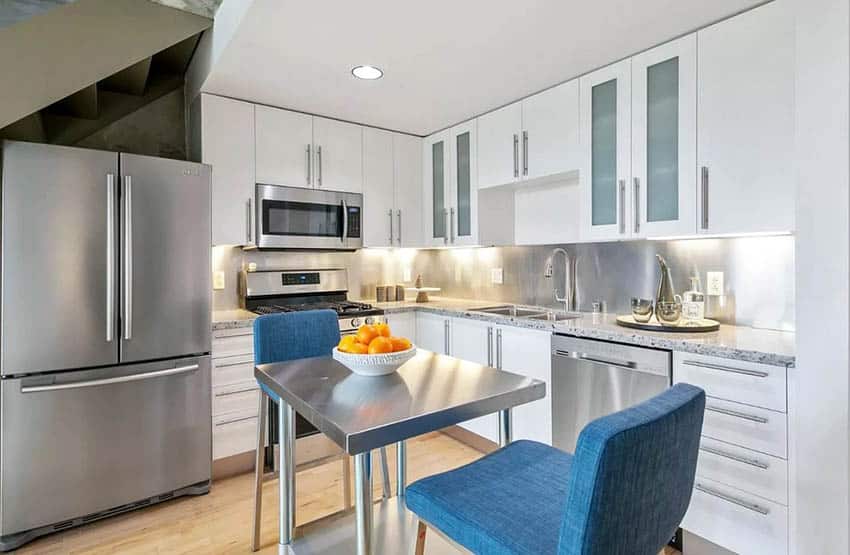 Deze kleine L-vormige keuken slaagde erin om een ​​zeer kleine vrijstaande toe te voegen roestvrijstalen keuken eiland. Omdat het licht en beweegbaar is, kunt u het eenvoudig verplaatsen of verplaatsen als dat nodig is.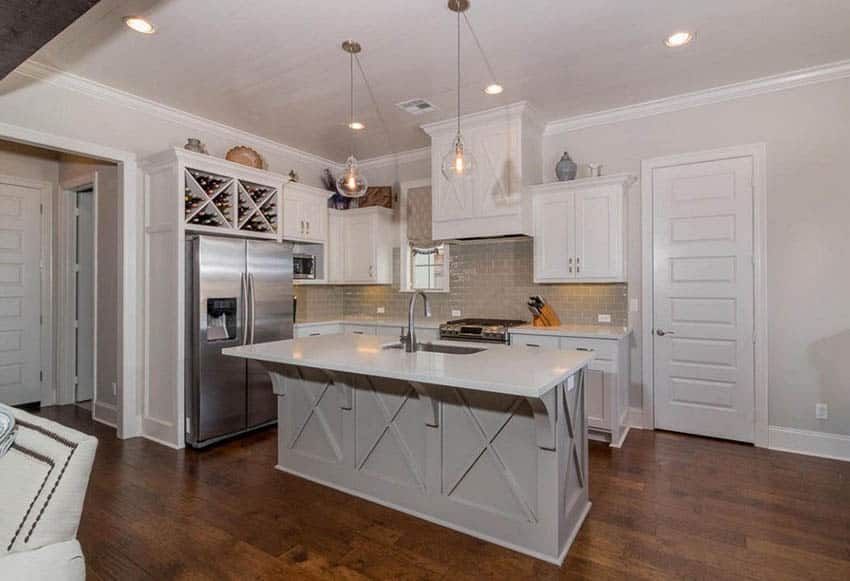 Deze hele ruimte gaat voor een samenhangende witte en grijze landelijke stijl. De kleine open L-vormige keuken met kookeiland verbindt met de woonkamer en eetkamer, zodat de kleuren ingehouden blijven om in te mengen. De ruimte is zeer beperkt, zodat de opslag is gemaximaliseerd en de meeste apparaten zijn ook ingebouwd. Bekijk meer kleine keukens met witte kasten hier.